Description
These products are designed to be used in a specific order to foster children's learning and growth. Though we as interventionists often want kids to simply "control their behaviour," the act of doing so is surprisingly complicated. For kids to learn to self-regulate, they must first develop solid social awareness which includes an understanding of the social norms for a particular context, and the self-awareness and perspective taking to adapt their behavior to fit social norms. Therefore, since self-regulation requires an array of social competencies, it's important to support children in developing these before we can expect them to self-regulate. Begin with the book, You are a Social Detective!, move on to the Superflex Curriculum, then and add other Superflex products to support the learning and help students dive deeper into specific concepts. See the products included in this bundle and the order in which to teach them below.
Please Note: The Superflex My Hero Within Music CD is no longer included in the Bundle (they don't make it any more).
Bundle Products: Use in This Sequence
Start Here:
1. You are a Social Detective!
Though Superflex does not appear in this book, it introduces the foundational concepts required for social self-regulation—earning its spot as the first book of the Superflex series. You are a Social Detective! encourages kids to become "social detectives" to observe the social world and learn unique Social Thinking Vocabulary to help them figure out what the social expectations are in different contexts. The book also helps kids work on perspective taking, as they learn that everyone has thoughts and feelings about each other (including about them!) and that their words and actions impact others. Only when students develop a working knowledge of the expectations they have for others in the social world and understand that the world has expectations for them as well are they ready to learn how to self-regulate using their inner Superflex to meet those greater expectations. You are a Social Detective! is an award-winning storybook that should be taught over an extended period of time and revisited often to encourage social learning in all contexts. For interventionists, a few lesson ideas are included to guide further teaching of these concepts. Also sold separately.
2. Superflex… A Superhero Social Thinking Curriculum Package (two-book set)
Once you've finished teaching You Area a Social Detective!, it's time to move on to the Superflex Curriculum Package. For the past 10+ years, kids around the world have been having fun developing their social self-regulation with these characters. In this two-book set, get to know Superflex, a self-regulation superhero, and the 14 original Unthinkables—quirky, engaging characters who represent common unexpected behaviors. Through the Superflex Curriculum, kids will enjoy learning about flexible thinking, gaining strategies to defeat Unthinkables, and practicing pro-social behaviors on their journeys toward social self-regulation. The charming storybook introduces kids to the pretend realm of Social Town, Superflex, and the Unthinkables. The curriculum includes lessons, handouts, and visual tools to transform your classroom, clinic, or home into a Superflex Academy. Teach students to access their superflexible thinking and to foster social self-regulation. Mainstream kids love Superflex too! Also sold separately.
Use to Support the Superflex Curriculum (in Any Order):
3. Superflex Bingo
Superflex Bingo is a flexible, fun, and educational game that helps kids solidify Social Thinking Vocabulary from You are a Social Detective! and the Superflex Curriculum, while studying the powers of the Unthinkables. Use it alongside or after the Superflex Curriculum to help kids familiarize themselves with the concepts and characters to use in their self-regulation journeys. Students listen to a situation read aloud and figure out a Social Thinking concept or Superflex character that fits the situation, placing a game piece on the square that matches their thinking. The game is designed so that all players "win" by getting bingos during the session, alleviating the behavior dysregulation that can often occur in competitive games.
4 & 5. Superflex Superdecks & Double Decks  –
Be aware SuperDecks is currently out of stock, we will send all items in the bundle except SuperDecks and send SuperDecks when it becomes available.
Mix and match card decks to play a variety of games that help kids get more out of the Superflex Curriculum. Cards feature the Unthinkables, the Thinkables, situations, and strategies to explore the many ways these characters come into play in everyday life. Includes instructions for multiple games designed to help kids remember the traits of the characters, their powers, and which strategies to use when confronted with a particular Unthinkable.
Also sold separately: Superdecks and Double Decks.
6. Social Town Citizens Discover 82 New Unthinkables for Superflex to Outsmart!
Meet 82 new Unthinkables—including Antsy Nancy, Blurt Out Blue, and The Enforcer—submitted from readers all over the world! We also introduce the Five-Step Power Plan to help kids identify their Unthinkables, select a strategy, and use positive self-talk through the process; and debut the Thinkables, characters who help kids use their superflexible thinking strategies.
7 & 8. Glassman and Kool Q. Cumber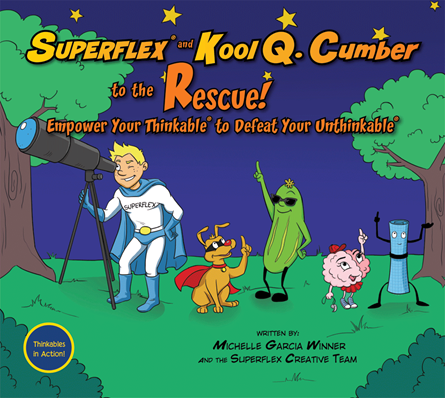 Help kids keep their cool! You've worked through the Superflex Curriculum with your students and now you're ready to dive deeper. These two books, featuring the Unthinkable Glassman and Thinkable Kool Q. Cumber, teach strategies to overcome a common struggle—having big reactions to small problems.
Also sold separately: Glassman and Kool Q.
9 & 10.Brain Eater and Focus Tron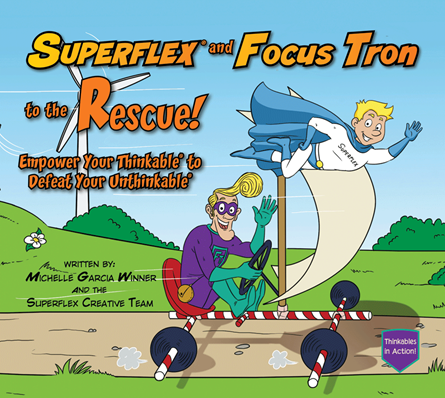 Defeat distractibility! You've worked through the Superflex Curriculum with your students and now you're ready to dive deeper. These two books, featuring the Unthinkable Brain Eater and Thinkable Focus Tron, teach strategies to overcome a common struggle—being distracted!
Also sold separately: Brain Eater and Focus Tron
11. Superflex Takes On One-Sided Sid, Un-Wonderer and the Team of Unthinkables
Help kids grow from thinking only about themselves to thinking about other people, remembering details about them, and asking others socially-based questions. This book explores how Unthinkables One-Sided Sid and the Un-Wonderer work together in our heads to make us think only about ourselves—and strategies to overcome them!
12. Superflex Super Sticker Collection: Thinkables & Unthinkables
Over 500 fun and colourful stickers showcase our team of Unthinkables, our team of Thinkables, and the idea that "Superflex is Me!" Perfect for use at home, at school, in the clinic, or on the go, these stickers complement Superflex®… A Superhero Social Thinking Curriculum as a great way to support the lessons that Superflex and the Team of Thinkables are within each of us providing metacognitive strategies to figure out how to self-regulate in different social contexts. The stickers should be used to encourage a metacognitive focus and promote self-awareness of kids' own Thinkable powers, as well as the powers of their Unthinkables.  
Publishing Information
Ages: 5-10+
Pages: 680
Format: Other
Item No: 6012
Published: 2019